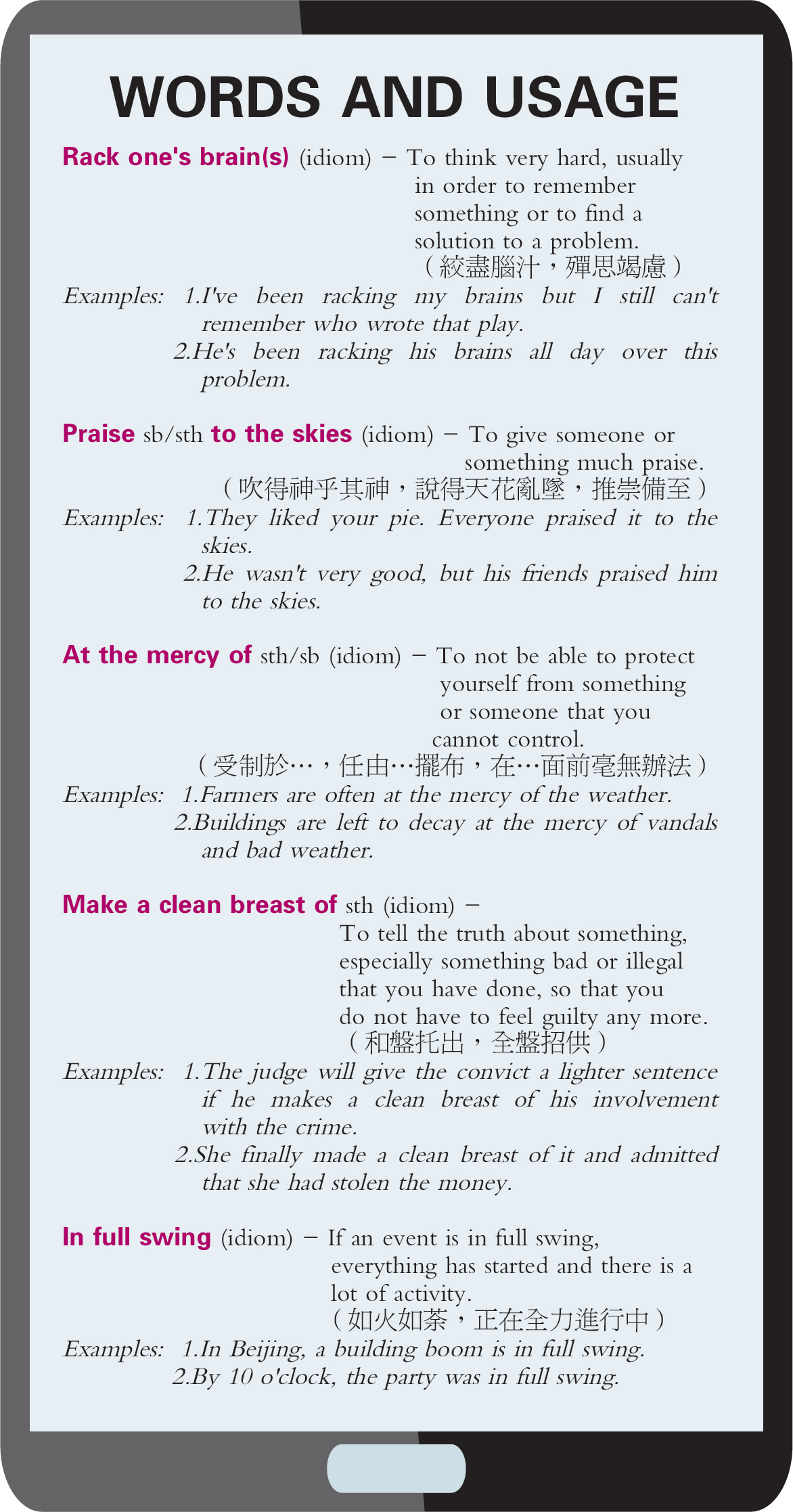 Now, there are only some 20 days left before the election-day for District Councils (22 November).  All major political parties and organisations have sent their candidates to run the election, so much so that in some constituencies one seat is being competed by as many as six candidates.  In order to win votes, all political parties are racking their brains to gain publicity, competition being very fierce.
  In face of various political parties' publicity campaigns, the three million voters may feel dazzled and hard to make a choice.
  Under such circumstance, it is better to judge a person not by his words but by his deeds.  Propaganda slogans may praise the candidates concerned to the skies, but only facts can tell the truth.  For instance, if a certain political party's propaganda slogans talk about safeguarding citizens' interests and seeking benefits for citizens, but in reality it is specialised in doing evil things to hamper economic development and improvement of people's livelihood.  How can candidates of this party be trusted and be voted for?
  Right now, there is a case in real life in this regard.  In the evening of last Friday, a crane on a barge hit the Kap Shui Mun Bridge and cut off two optical fibers for communication under the bridge.  Authorities had to close the Tsing Ma Bridge for a check.  At once, Lantau Island and Chek Lap Kok airport became an "isolated island".  Thousands of outbound or inbound Hong Kong citizens and tourists were delayed for over two hours.
  At that time, everyone was shocked to realise that the transport planning and design for Lantau Island and Chek Lap Kok airport is "too vulnerable to withstand a single blow".  Once the bridge is closed, the whole Lantau Island and Chek Lap Kok airport are left at the mercy of the Heaven.  For this, many people have accused the SAR Government of deficient panning and design for transportation, of lack of crisis awareness and contingency measures.  Had there been another link, even if the Tsing Ma Bridge is closed, there would have been another way in and out.
  Accused like this, the SAR Government in fact is a scapegoat to take the blame for others.  The SAR Government does have a foresight.  As early as in the end of 2009, it had already put on the agenda the building of Route No. 10 linking Tuen Mun to Chek Lap Kok, together with the Hong Kong-Zhuhai-Macao Bridge project.  Out of the blue, however, there came out an Old Lady Chu, a public housing resident in Tung Chung, who applied for a judicial review against the project on reason that dusts generated during construction were harmful to health.  With the lawsuit dragging on month after month, construction cost for the project sharply increased by $8.8 billion, and commencement of construction was delayed for more than one year.  As a result, construction of the Tuen Mun-Chek Lap Kok link could start only one year later.  Completion of its construction, originally scheduled in 2017, now has to be postponed until 2018.
  In the aftermath, that Old Lady Chu, made a clean breast of it to the media.  She's illiterate, basically knowing nothing about the Hong Kong-Zhuhai-Macao Bridge.  Neither did she want to cause a waste of over $8 billion public funds.  But a member of the "barrister party" came to her and offered to file a lawsuit on her behalf against the government.  She only needed to act as a figurehead plaintiff for the lawsuit, all legal actions would be taken care of by people from the "barrister party".
  It is only because of such a lawsuit that the Chek Lap Kok airport had to become an "isolated island" following the bridge collision accident last Friday, which has affected people's livelihood and became an international laughing stock.  The chief culprit causing all these problems is none other than the Civic Party, that "barrister party" which keeps paying lip service to justice and people's will.
  Now district-council election campaigns are in full swing.  The Civic Party has candidates running in several districts.  As an old saying has it that "Lessons learned from the past can guide one in the future", those voters who intend to cast their votes to this "barrister party" might as well think it over and ask:  How come did the Civic Party want to undertake the lawsuit to block the construction of the Hong Kong-Zhuhai-Macao Bridge, resulting in the predicament today that the Chek Lap Kok airport could become an "isolated island" at any moment?  Should they be blamed for the bad consequences that damage Hong Kong and do harm to people?  And how could members of that party including Audrey Eu Yuet-mee and her ilk still shamelessly boast themselves as "incarnation of justice" and "goddess of justice", in an attempt to grab votes by cheating voters with banana oil?
  As a matter of fact, since the Civic Party climbed on the SAR's political stage, it has done nothing good but a lot of bad things.  In the past, there was the judicial review over the Hong Kong-Zhuhai-Macao Bridge project, in recent time, they have forfeited universal suffrage.  They owe voters too much, so how is it possible that voters would still want to vote for them?
28 October 2015